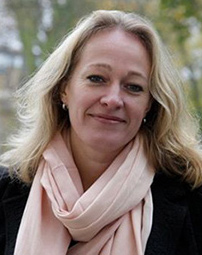 Messing & Groef (Dutch for a tongue and groove or tongue and rabbet connection) was founded in 2011 by Bianca Stokman. Bianca is a trained organizational psychologist and HR-professional and an experienced personal and leadership development trainer and (executive) coach. She combines her expertise in psychology and organizations with her knowledge on body, voice, neurobiology and the theory of evolution, acquired in several courses as well as in her study at the Conservatory of Utrecht (Voice).
Bianca's started out her career in consultancy and HR. Even then her interest was mainly in human development and training. In 2005 for that reason she made the switch to training and coaching. Her fascination for neurology and the physical system (the coherence of brain and body) started in 2008 and nowadays is a distinguishing element in her approach.
Bianca describes her way of working as a combination of down-to-earthiness, scientific insights, intuitive interventions, a sense of perspective and depth. She looks at both the systemic level as well as the individual level. She is not looking for thé truth, but focuses on meaning and effectiveness.
Bianca is available for:
Individual coaching on personal and leadership development
Training in personal and leadership development, communication and presentation skills
Talks in the field of neurobiology and the impact on work and personal growth
Bianca lives in the Amsterdam area with her husband.
Messing & Groef works together with a network of experts, both national and international, on a diversity of subjects. Each member of this network has a profound experience in his or her respective field.
Jacqueline Jansen: Author of two popular Dutch books about the relational complexity in teams ("Gedoe komt er toch" (2005) and "Gedoe op tafel" (2013)). Jacqueline and Bianca facilitate teams in working more enjoyably and effectively, in which process it is often necessary to deal with the unconscious team behaviors and interactions. The organizational goals and demands are of course the framework for these sessions.
Caroline van Frankenhuyzen: Caroline is a specialist in the psychology of leadership and guides leaders to enhance their self-awareness, presence and effectiveness. Caroline describes herself as eclectic in her approach, drawing on a wide spectrum of wisdom traditions, ranging from the classic scientific ones tot the exclusively spiritual.
www.carolinevanfrankenhuyzen.nl
Ewoud Westbroek: Ewoud is trainer, coach and therapist. He specifically focuses on the body-oriented approaches. He practices a diversity of Martial Arts and Chi Kung and uses these to work with clients on their personal well being and development.
www.kairostrainingen.nl
Tara Swart: Tara is the only leadership coach with a PhD in neuroscience and a successful career as medical doctor behind her. This unique combination of experience comes together to create an uncompromising and holistic impact on performance optimisation in businesses in the UK, USA, Europe, Africa, Asia and Middle East.
www.the-unlimited-mind.com
Marjon Smit: Marjon was educated as socio-therapist, drama-teacher and theatre director. The last 20 years she specialized in communication training and coaching. Her talent is to help visualize how you present yourself in a certain situation and to mirror the way you communicate. Her deeply developed perception at the energetic and spiritual give her approach a direct and profound intensity.
www.mensenzoalswij.nl